DOMENICO AUGUSTO FRANCESCO MAISANO
Associate Professor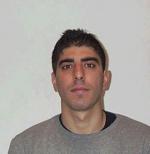 Scientific branch
ING-IND/16 - TECNOLOGIE E SISTEMI DI LAVORAZIONE
(Area 0009 - Ingegneria industriale e dell'informazione)
Publications
PORTO@IRIS - Publications Open Repository TOrino
Curriculum
Expand text

Domenico Augusto MAISANO Ph.D. is Associate Professor of "Quality Engineering" and "Quality Management Systems" at Politecnico di Torino - Dept. of Management and Production Engineering (DIGEP). He is member of A.I.Te.M. (Associazione Italiana di Tecnologia Meccanica), INFORMS (Institute for Operations Research and the Management Sciences), the editorial board of the Quality Engineering journal, and collaborates as a reviewer for many other international journals. His research interests are Quality Engineering/Management, Large Volume Metrology, Performance Indicators and Scientometrics. He co-authored 4 monographs, more than 100 publications on international journals and conference proceedings, and two patent applications. At present, he is the principal investigator of the Co-LVM project. His publications are available from here.