DOMENICO AUGUSTO FRANCESCO MAISANO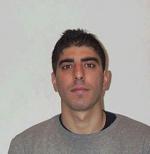 Associate Professor

Referente Corsi di Studio (Ingegneria della produzione industriale L3+LM)

+39 0110907281 / 7281 (DIGEP)
Domenico Augusto MAISANO Ph.D. is Associate Professor of "Quality Engineering" and "Quality Management Systems" at Politecnico di Torino - Dept. of Management and Production Engineering (DIGEP).
He is member of A.I.Te.M. (Associazione Italiana di Tecnologia Meccanica), INFORMS (Institute for Operations Research and the Management Sciences), SOCOLNET (Society of Collaborative Networks) and collaborates as a reviewer for many other international journals.
His research interests are Quality Engineering/Management, Large Volume Metrology, Performance Indicators and Scientometrics. He co-authored 4 monographs, more than 100 publications on international journals and conference proceedings, and three patent applications.
Scientific branch
ING-IND/16 - TECNOLOGIE E SISTEMI DI LAVORAZIONE
(Area 0009 - Ingegneria industriale e dell'informazione)
Scientific responsibilities and other assignments

Awards and Honors

Premio su concorso "Giulia Girardi: IL PENDOLINO" conferred by Associazione Ingegneri e Architetti ex Allievi del Politecnico di Torino, Italy (2004)
"Premio pubblicazioni", Intervento a favore dei giovani ricercatori conferred by Politecnico di Torino, Italy (2010)
"Premio pubblicazioni", Intervento a favore dei giovani ricercatori conferred by Politecnico di Torino, Italy (2011)
Premio Giovane Ricercatore AITeM "E. Capello" conferred by AITeM (Associazione Italiana di Tecnologia Meccanica), Italy (2013)
AMCTM Best Presentation Award conferred by IMEKO (International Measurement Confederation) (2014)
SAGE Best Paper Award conferred by Editor and Editorial Board of the Journal of Engineering Manufacture (Proceedings of the Institution of Mechanical Engineers, Part B)., United kingdom (2014)
AMCTM 2017 Best Poster Award conferred by Scientific committee of the AMCTM 2017 conference, United kingdom (2017)
View more

Editorial boards

QUALITY ENGINEERING (2017-2019), Editorial board member

Other research or teaching roles outside Politecnico

Visiting Researcher at University of Bath (1/6/2007-15/9/2007)